We all know that Zodiac, very possibly, was in Southern CA in 63-67,Domingos/Edwards & Bates (Bates letters at least were confirmed by writing experts)
So if we assume that Z lived, worked, went to college, or had family in Southern CA, then it would stand to reason there may be other victims down there that could be his handywork. I spent alot of time researching cases with CONFIRMED Zodiac MO, or SUSPECTED Zodiac MO, down in Southern CA from 63-67, and also after the last 1969 confirmed Z case.. Some of you may have heard of these cases before, some of you may have not. I have posted on some of these before, but I wanted to pick the brain of some people here who may have some fresh ideas or opinions, so here is the list:
_______________________
Cindy Lee Mellin - Her attack happened in January 1970. Maybe Z had wanted to avoid the heat in Northern CA, and went back down to southern CA to do whatever it was that placed him in southern CA. Z did take a 4 month vacation from writing during that time period.
Missing since January 20, 1970 from Ventura, Ventura County, California.
Classification: Endangered Missing
Vital Statistics
Date Of Birth: December 3, 1950
Age at Time of Disappearance: 19 years old
Height and Weight at Time of Disappearance: 5'6" (168 cm.); 105 lbs. (48 kg.)
Distinguishing Characteristics: White female. Brown hair; blue eyes. Mellin wears contact lenses.
Clothing/Jewelry: She was last seen wearing a navy blue dress with red buttons, a brown corduroy coat and blue shoes with gold buckles. She was also wearing a gold ring with a single pearl.
Dentals: Not available
Circumstances of Disappearance
Mellin was employed by the Broadway Department Store in the Buenaventura Shopping Center. She left work shortly after closing on the night of January 20, 1970. She was last seen standing next to her car in the shopping center parking lot while an unidentified male changed her tire.
When she failed to return home that night, her father went to the shopping center looking for her and found her car still up on a jack with the flat tire still attached.
The disappearance of Cindy Lee Mellin is a case with possible ties to the infamous Zodiac killer. But Ventura cold case detectives say the evidence points to another killer
The Press Courier
Thursday, January 22, 1970
VC COED FEARED KIDNAPPED
Ventura Police today intensified their investigation into the mysterious disappearance of a pretty Ventura coed who may have been forcibly from a parking lot at San Buenaventura shopping center.
Cindy Lee Mellin,19, daughter of Mr. and Mrs. Leonard Mellin 258 N. Linda Vista Ave., Ventura, vanished Tuesday night after she left her part-time job at the Broadway Department Store where she worked as a salesgirl.
"It is still too early to speculate what happened to the teen-ager, but evidence indicates the girl was apparently kidnapped," Detective Sgt. Ken Cozzins said, "But," he added, "We are thoroughly investigating every angle possible."
Sgt. Cozzins said Cindy had no problems at home and has never run away before. She was described as a "studious girl" who dated only occasionally.
Mellin, a draftsman for an offshore oil company, reported his daughter missing Tuesday after finding her automobile sitting alone in the parking lot of the department store.
He said the tire of the vehicle was flat and it was up on a bumper jack. He said the spare tire was laying nearby and the doors and trunk, along with the glove compartment, were open.
Mellin said
he examined the flat tire and it appeared to have been deliberately punctured with a knife,
"There was a large slit in one side" he said.
"She usually calls me when she has trouble with her car," Mellin said, in noting that his daughter was unable to operate a jack and did not know how to change a tire.
Police said an investigation revealed that two of Cindy's co-workers had been picked up by their husbands and drove by Cindy's car about 10:30 p.m.
The co-workers said they saw Cindy standing by the car with a tall, slim man, between the ages of 35 and 40, jacking up her automobile.
After having a cup of coffee at a nearby restaurant, they drove by Cindy's car again and no one was in sight "We didn't think anything about it because we thought the man was Cindy's father and that she was just taken home," the co-workers said.
Mellin said that when he awoke at 4:45 a.m., he didn't see his daughter's car parked in the driveway and rushed to her room to find that she had not been home. He then drove to the parking lot and then notified police.
Mellin said he definitely suspects foul play because Cindy would not go away willingly with anyone.
Cindy is 5 foot 6 with blue eyes and brown hair and weighs 105 pounds. She was last wearing a navy blue dress with red buttons, blue shoes and a brown corduroy coat.
Anyone seeing the girl or knowing her whereabouts are urged to call the police station.
_______________
Ernestine Frances Terello-She vanished April 30,1972 from the Agoura area in Southern CA. (during the 3 year break Z took from writing)
Pulled over to tend to a "flat tire". Police theorize that a "good samaritan" had abducted her after offering to help her. Her body was later found about 6 miles away. I will post a couple articles here. Notice the BOY SCOUT clue in the article. Maybe a connection to faraday, and the Boy scouts? (Z seemd to be an outdoorsman, and so are the boyscouts) Like Johns, she was abducted from her car in one spot, and deposited someplace else, only she didnt make it. You will also notice that the article said police "suspect" that she was sexually assaulted. I spoke to a Detective regarding her case and he said that there was NO MENTION OF SEXUAL ASSAULT OR ROBBERY in her case report, and as a matter of fact, she has some pretty valuable rings and stuff in her posession when she was found.
________________________
Anne Marie Robinson- Vanished in January 1972 (during Z's 3 year writing hiatus) after leaving her job at Pacific Telephone Company located at S. Vermont Ave. in Gardena, CA. Her car was found 2 blocks away with a "flat tire". She was never seen again.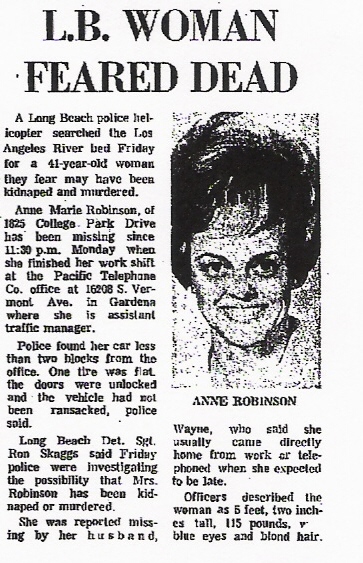 _________________
Robin Ann Graham- Vanished in November 1970 (during a 4 month writing hiatus from Z) after her car ran out of gas near near Hollywood. Witnesses saw her talking to a man who apparently "stopped to help" Her body was never found
___________________________
Mona Jean Gollegos/ Gallegos- Vanished June 1975 (Well after the last confirmed Z letter)Her disabled car was found on the San Bernadino Freeway near Santa Anita Ave in El Monte. Her body was later found near Riverside.
______________________
Sandra Garcia & John Franklin Hood- Both found savagely stabbed and beaten on a Santa Barbara beach Feb. 1970(during the 4 month hiatus Z took from writing). Like Domingos/Edwards, and Jensen, this couple was found under a blanket.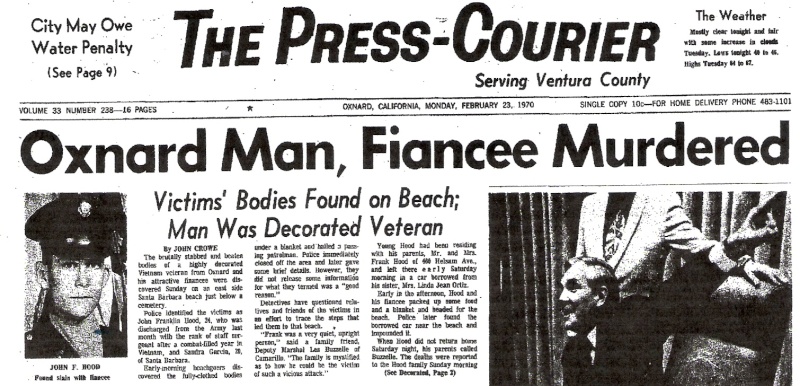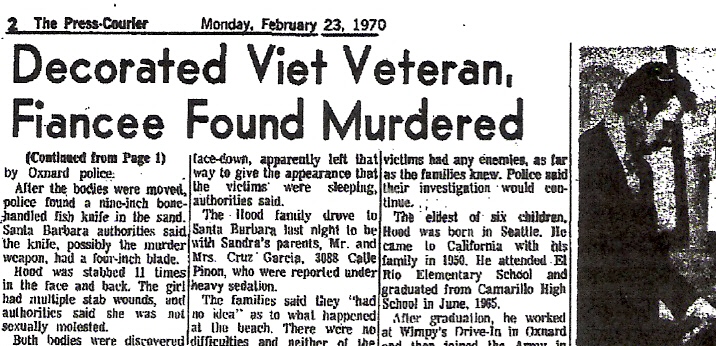 ______________
John Swindle & Joyce Swindle- The newlyweds were shot as they strolled on a San Diego beach in Feb 1964. They were shot from a distance, and then the shooter shot them both up close. A box of "valentines candy" was found with them. Police dont know if it belonged to them, or was left by their killer as a calling card of some kind. Swindle's wallet was taken (like Paul Stine) but police seemed to think that it was only taken as an afterthought, and that the motive was just for the thrill of it. Seems to be similar to the Jenner Beach murders years later. What is frustrating is that the gun make/model doesnt seem to be mentioned. I wanted to know if it matches up with any confirmed Zodiac weapons, or Domingos/ Edwards, or the Jenner Beach case.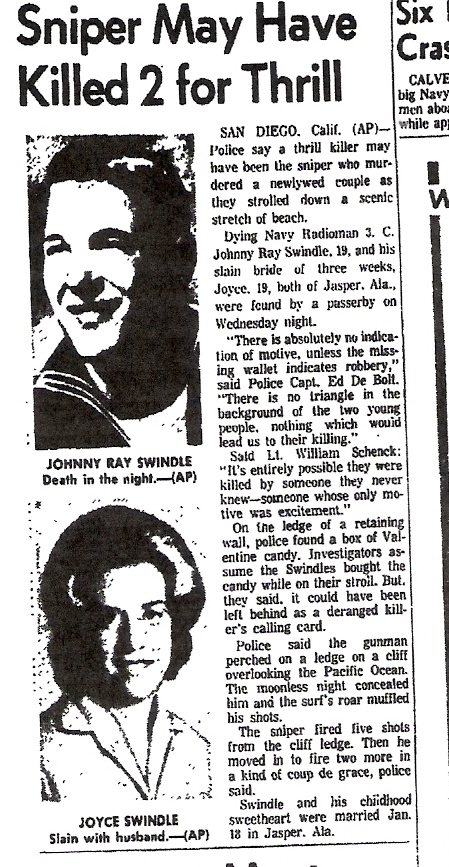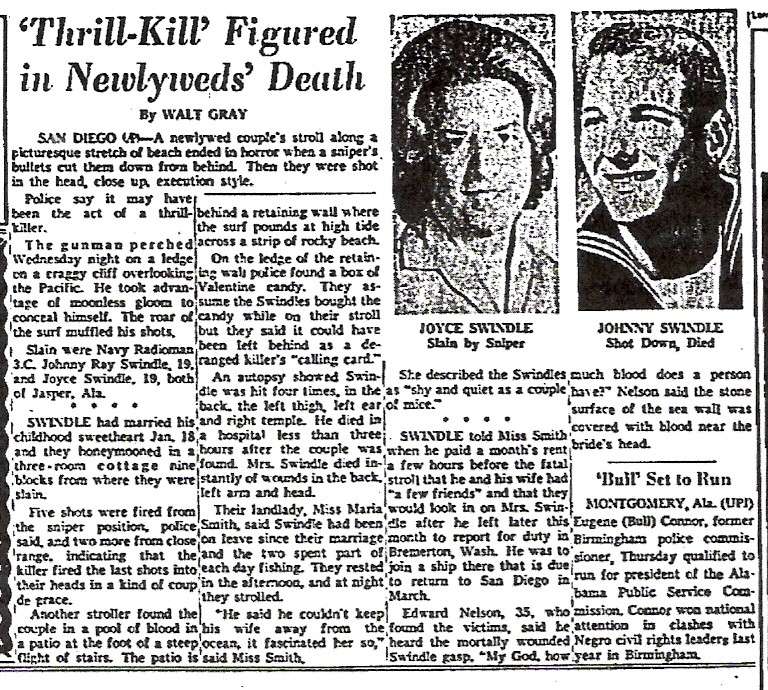 ____________________
Lastly, a repost article of a man in Southern CA in 1967 attacking women after getting them to pull over by telling them their wheel was falling off. The articles state that he drove different types of cars each time. In the Z case, there were varying reports of the color, make and model Z may have drove.

______________________
As far as I could find, all of these crimes went unsolved. Any chance any of these could be Zodiac operating in Southern CA? Why or Why not? Thanks