Seems like a lot of people have a POI or suspect. I have had one for a while now, and after a couple people sent me PM's, asking for more info about him, I decided that I would post a full report on him.
Although most people here know who he is, for the sake of not flat out naming him as a suspect, I will simply call him 'JIMMY'. I am not going to try and sell him as a suspect to anybody, so if you aren't interested in him as a suspect, that's cool. I merely seek to have him "properly" ruled out as a suspect, the way he should have been ruled out over 40 years ago. You see, the simple fact is, that Jimmy is the ONLY person in the Zodiac case that can be put at the location of a confirmed Zodiac crime within the 3-6 minute window in which it happened. No offense to suspects like Kane, or ALA, or TedK, or Jack T, or anybody else, but this guy is the ONE & ONLY person. And it's not me placing Jimmy there, Jimmy himself places himself there, and as I will show to you, his statements to police, and the fact he was not likely cleared properly by police, should arouse some suspicions or at least raise some questions.
A little about 'Jimmy'. Jimmy's background is a pretty big mystery to me. I know his full name & DOB, but I cant find any birth record. I think he bounced around when he was younger and lived in states like WI & MI. He wound up moving to Vallejo at some point and graduated from Vallejo HS in 1950.
Some point after that he married, and had a son in the mid 1950's. I don't know where he lived for sure, but I looked for records of him all over southern CA trying to see if he could have been down there for the possible Z activity in Riverside/Santa Barbara/San Diego. I couldn't find anything solid. A woman by the same maiden name of his wife attended college near L.A. in the 50's, and that may be the only clue to him being down there if that is his wife that went to college there. I also have found some possible clues that Jimmy lived in the Reno, NV area in the mid 60's, but can't confirm it. I have seen a photo of Jimmy's son (his son was about 50 at the time of the photo taken maybe 5 years ago)and he looked similar to the description of Z back in 1969- stocky, round face, glasses, and a red tint to his hair. If I could only find an adult photo of Jimmy in 1969, I could see how close he looks to the Z sketch.
In 1968, a few months before the Lake Herman Rd murders, Jimmy purchased a property in Vallejo. He went to work for Humble Oil in nearby Benicia, although the refinery didn't officially open until 1969. I don't know what job he held there, but the fact he was working there before it officially opened may be some sort of clue as to what job he held. (if you look closely in one of the photos from the Domingos /Edwards crime scene posted in that thread on this forum, less than 2 miles down the road is a refinery, but of course, that may simply be a coincidence)
I have searched in vein for a photo of him circa 1969. I have asked a couple people here on this forum to aide me in obtaining a photo of him, or any other materials, and so far, it has been fruitless. One point of interest is that the amended Zodiac sketch places Z at 35-45 years old at the time of the Stine murder. Jimmy was 39 at that time, so he fits perfectly.
I heard that his name, but NOT his photo, is in the 1950 Vallejo HS yearbook. But even if I could find a yearbook signed by him, with a note or written message, it may be enough to compare to Z writing.
What follows are the multiple inconsistencies from Jimmy himself, that make me feel he should be considered as a suspect:
• 12/20/68, As we all know, the Lake Herman Rd murder happen. Police would later determine that there was a small 5-6 minute window for Z to strike. I will prove , with Jimmy's statements, and police reports, that my POI was there around that time, and that his statements are filled with multiple inconsistencies.
The murders happened at about 11:13-11:16pm aprox.
Most of the witnesses ( Mr & Mrs Your, Bingo Webster, the hunters, etc) have to be rounded up for statements the next day. Jimmy didn't have to be rounded up. He showed up at about 8:15am, only 9 hours after the murders, after leaving his job on the midnight shift at Humble Oil, to give a statement to police which went as follows:
Basically Jimmy gives these statements:
*He passed the scene at 11:20pm
*He said he saw 2 cars (Faraday's and Zodiac's) but he could only describe Faraday's, not Zodiac's car.
*He said that Zodiac's car was "about ten feet to the right of Faraday's"
*He mentions that police may want to check with a fellow Humble employee named ???? that may have driven by the scene.
*Although Jimmy is at the scene of a double shooting, only 9 hours after the crime, he does NOT mention hearing a gunshot.
*He doesn't mention seeing any bodies or people, only 2 cars
Here is the next page of that police report:
You can clearly see that the police didn't question the fellow employee to see if he saw anything, rather they had Jimmy do it for them. (What a joke) Jimmy stated that he asked the fellow employee, and that the fellow employee did not pass the scene on the night of the murders.
3 days after his original statement to police, they ask him to give a second statement on 12/24/68 as follows: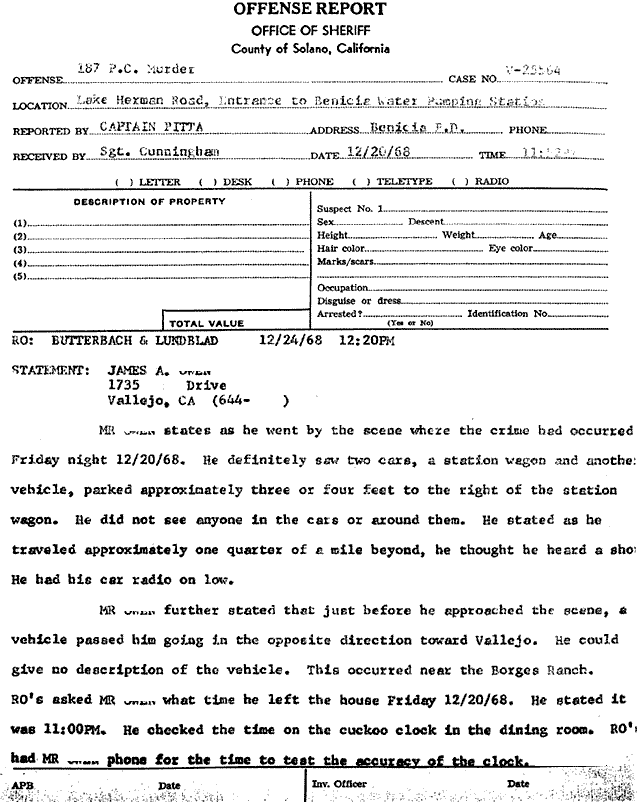 *Jimmy now states that the two cars are now 3 or 4 feet apart (not 10 feet as he stated in his statement from 3 days earlier)
*The report also shows that police asked Jimmy to verify his own time on his home clock. This is the second time police asked him to do something that they should have done.
*This next part of his statement is the most damning in my eyes. He now says that he heard a shot a little ways up the road after he passed the scene. Only 3 days earlier, he didn't mention that, despite the fact he had given his first statement to police at the scene of a double shooting only 9 hours after the murders. Some people will argue that witnesses sometimes forget stuff. I don't buy it for a minute. If you are at the scene of a double shooting only 9 hours after the murders, if you heard a shot, you would mention it to police at that point, you wouldn't suddenly remember it 3 days later.
Here is another page from the report: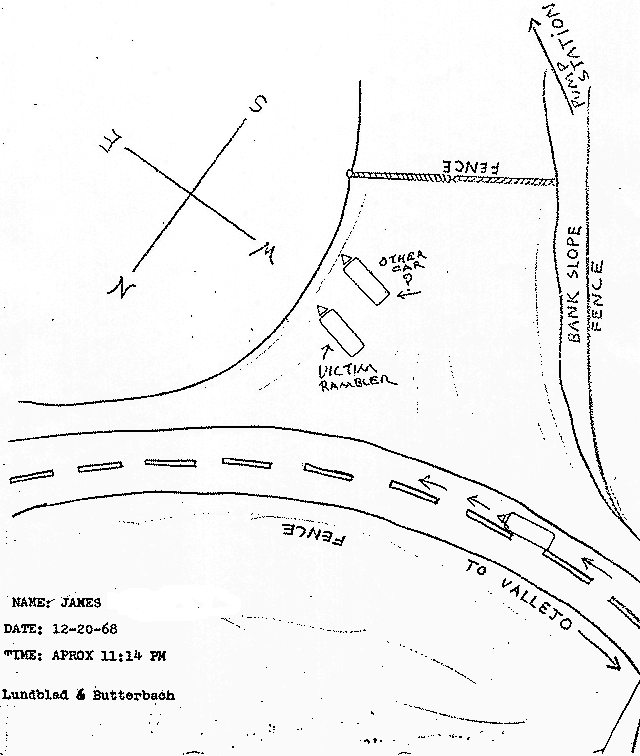 Despite Jimmy saying he was at the scene at 11:20pm, police had to change the time of him being there to "approx 11:14pm". Bentley previously was kind enough to do a google earth directions mao that said the trip from Jimmy's house the LHR murder spot would have taken 14-16 min (if I remember correctly). The sketch on this police report page, shows what Jimmy claims he saw. Why did police change the time he was there from 11:20 to 11:14pm? Because of the following statement from Stella Borges: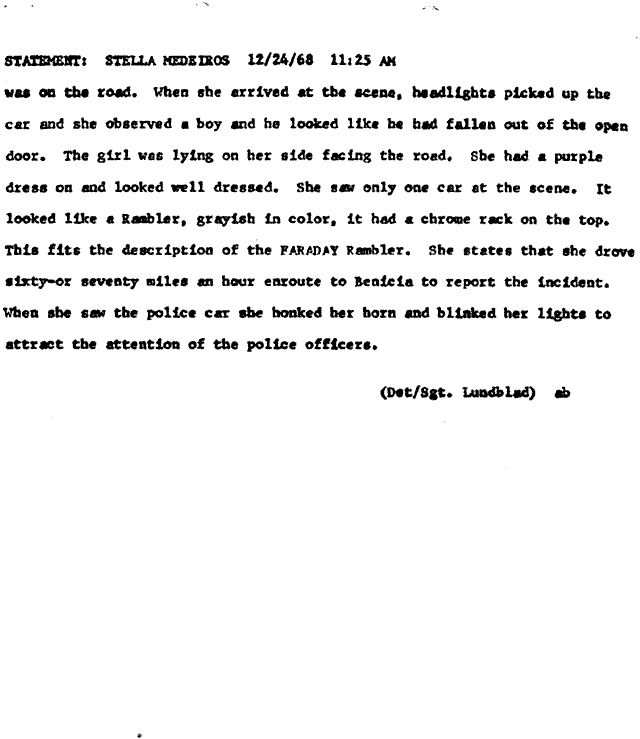 Stella estimated that she arrived at the scene at 11:14 & 11:15pm. Her clock was found to be 1 minute fast, meaning she really arrived there at 11:13-11:14.
The police did do a great job trying to establish the correct times of all the people's clocks that were on LHR that night. From Mr & Mrs Your, to the hunters, to Stella (everyone BUT Jimmy, he was allowed to verify his own clock).
The simple fact is that Jimmy was on the scene at about 11:14 if you believe the police report's "adjustment" from the time of 11:20 to 11:14pm. They had to adjust the time to make it line up with Stella Borges finding the bodies. She was there, realistically only a minute or two after Jimmy passed the scene. This sketch is based on what she saw when she passed by:
Jimmy only a moment or two before , said he saw two cars with no bodies or people around. Then a minute or two later, Stella passes the scene, and sees no cars besides Faraday's, but she immediately sees the bodies.
How likely is it that Z struck in that small 2 minute window, did the attack, and escaped without being seen by Stella? Was there ever a second car there? Police are going off of what Jimmy told them and that's all. Hell, they even let him investigate ( verify his clock and ask another potential witness if he saw anything)
At some point, the police had some interest in Owen as they asked Jimmy to give his guns over for a ballistics comparison to the LHR bullets as shown below: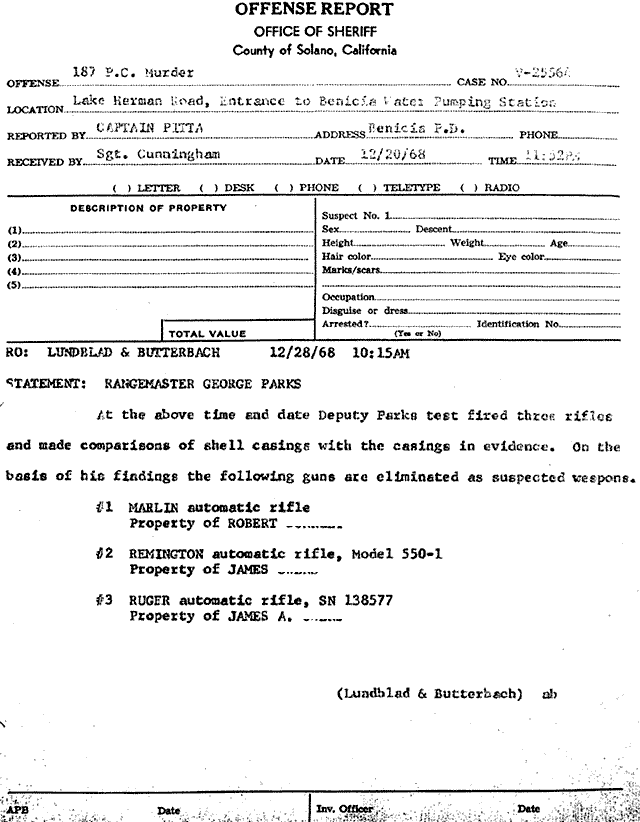 If Jimmy was Zodiac, would he really turn over the murder weapon?
Although they did not match the LHR murder weapon, one of his guns was a Remington 550-1 .22 Rifle. This same exact model weapon was used in the murder of Joyce & Johnny Swindle in San Diego in 1964. Some Zodiac researchers think this 1964 double murder may have been a nearly Zodiac crime. Perhaps interestingly enough, after the LHR murders, San Diego PD reached out to Vallejo PD, and wanted to see if their ballistics matched their ballistics in the Swindle case. Here is a link to Howard Davis's site and it clearly shows a that memo sent from SDPD to VPD:
http://www.thezodiacmansonconnection.com/victim_sd_honeymoon.html
So my questions are,
1- Did Vallejo PD say to themselves at some point -"Hey SDPD are looking for a Remington 550-1 weapon used in their crime, and we have a guy here at the scene of the LHR murders who has such a weapon, geeze let's look at this further"?
2- Since Vallejo PD and Solano County PD may not have been on the same page at the time, did Vallejo PD even know that Solano county PD had the Remington 550-1 turned in by Jimmy, and did Solano County Sheriff's dept ever get the same memo from SDPD, that Vallejo PD got?
There were 700,000 of these Remington 550-1 rifles made, so it could be a dead end. Then again, only one man known to own that weapon, was at the scene of the LHR murders, and that is Jimmy.
After the LHR murders, 7 months went by until the BRS attack on 7/4/69. People have wondered why there was a delay between the murders, and why Z waited so long to take credit for the LHR murders, since he was so fond of quickly taking credit of attacks soon after they happened. My theory is that if Jimmy was Z, he may have felt that he was being considered a suspect, and wanted to make sure that he was in the clear before striking again. Then, the BRS attack happened, and Z wrote a letter, and made a phone call taking responsibility for the LHR murders too.
Jimmy's name comes up once again in the BRS police report from Vallejo as seen below:
Police state that they are going to compare "two samples of Jimmy's signatures to the letters written from Z to the newspapers". This is a huge mistake. I verified with 3 different writing experts that you can NOT get an accurate match between a person's cursive writing and their printed writing. As if two cursive signatures would be enough for a comparison anyway. This is another big mistake on the part of the police in my opinion.
I obtained several samples of my Jimmy's cursive signatures IN ADDITION to a letter he wrote , as well as some of the writing from the Lass xmas card. I will post those samples here:
There are some similarities & some differences, I can see that, but I am not a writing expert and they are pretty expensive to hire. Then again, we don't know if the Lass card was truly from Z or if it was his writing. Also, the samples of Jimmy's writing are from the late 1960's all the way to 2010, so age, heath, etc may have caused changes in writing as well. My POI also had misspellings, odd spacing in words, and crossed outr words, just like Z.
A couple obvious things here:
*My POI fit the aprox age of the amended Z sketch (35-45). Jimmy was 39 at the time
*My POI owned or had access multiple guns (As did Zodiac)
*My POI was the only suspect or POI ever mentioned in the Zodiac case, that can be confirmed to be at the spot of a Z attack at just about the time of the attack, within a small 3-5 minute window when the murders happened
*My POI had MULTIPLE discrepancies in his statements to police
*My POI was incorrectly handled and/or ruled out by police. They let him do his own investigating, and ruled him out based on his cursive signature compare to a printed Zodiac letter.
One little tidbit, but still interesting. In one letter Zodiac wrote:
"I am mildly cerous as to how much money you have on my head now?"
DEFINITION OF THE WORD "CEROUS"- Of, relating to, or containing cerium, especially with valence 3.
What, you may ask is Cerium?
Cerium (chemical symbol Ce, atomic number 58) is a silvery metallic element that is a member of the lanthanide series of chemical elements. It is considered one of the "rare earth metals," but it is not rare at all.[1] It is, in fact, more common than lead.
Cerium, its alloys, and its compounds are valuable for a variety of applications. For example, cerium is used in carbon-arc lighting in the motion picture industry and is an alloying agent in tungsten electrodes for gas tungsten arc welding. It is used in alloys for permanent magnets and is a major component of ferrocerium, also known as "lighter flint." It degasifies steels, reducing sulfides and oxides in them. Cerium(IV) oxide is used in incandescent gas mantles, and has largely replaced rouge in the glass industry as a polishing abrasive. The oxide is also useful as a
catalyst for petroleum refining
and for self cleaning ovens. Cerium(IV) sulfate is an oxidizing agent for quantitative chemical analyses, and cerium(III) chloride is a catalyst in organic synthetic reactions. .
Also regarding the Zodiac Halloween card symbol: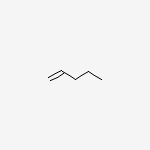 These symbols are called PENTENES;
1-Pentene can also be referred to as pentene, propylethylene, alpha-n-amylene, and 1-methyl-2-butene. The chemical abstracts registry number (CAS #) is 109-67-1. The structural formula is CH2-CH-CH2-CH2-CH3.
Naming
The prefix "pent" refers to the five carbon atoms in the molecule. The suffix "ene" indicates the presence of a double bond in the molecular structure. The number 1 indicates the position of the double bond along the carbon chain.1-pentene, along with 2-pentene, is a structural isomer of pentene. Geometrical isomers of pentene include cis-2-pentene and trans-2-pentene.
Double Bonds
The carbons in the molecular structure that are involved in the double bond are sp2 hybridized, meaning they have three equivalent hybrid orbitals in the same plane, 120 degrees from each other. This hybridized orbital consists of both a sigma bond and a pi bond between the double-bonded carbons.
Physical and Chemical Properties
1-Pentene is is an extremely flammable, colorless liquid with a slightly pungent odor having a molecular weight of 70.14 g/mol. The boiling point is 30.1 degrees celsius, and the melting point is -165 degrees celsius, with a specific gravity of 0.643 at 20 degrees celsius. The flashpoint and boiling point temperatures are -18 and 86 degrees celsius respectively. 1-pentene is insoluble in water but soluble in benzene, ethers and alcohols.
Applications
Pentenes are used as chemical intermediates and alkylated for use in automotive fuels. 1-Pentene is a volatile organic compund (VOC) released into the environment via its production and used as a chemical intermediate and in petroleum spills.
Maybe these "petroleum chemical clues" are related to my POI (if he was Z) trying to give the police a clue to his ID.....maybe not.
This guy may be the nicest guy in the world, and I would love to drop him as a suspect. I would love to see he was officially cleared thru great police work. But I don't think that is the case. I think cops messed up with this guy.
I asked Vallejo PD if Jimmy was ever cleared thru PRINTED WRITING, PRINTS, OR DNA. Their reply to me was "We never considered Jimmy as a suspect". Wow, that shocks me.
In the meantime, I am at a standstill. The two things I need most of him are a printed writing sample of his, as well as a photo of him circa 1969. Anyone want to help me rule this guy out? Especially someone near Vallejo? I have a letter sent to me from Jimmy, sitting in my freezer. It may contain prints, DNA, etc. For now, its just sitting there.
Nothing against anyone who has their own POI or suspect, but I am always amazed how people will go to great lengths to bend clues or shine a great light on their own POI or suspect, and go out of their way to look at ciphers , etc looking for clues to link to their POI. But they won't look at a person confirmed to live in Vallejo at the time of the Z murders, be at the scene of a double Z murder around the time of the murder, who owned guns, and made multiple discrepancies in his statements to police.