Many of you know that I have a POI that I have been working on, and have talked about in some threads here. Some of you know well who he is. I have been interested in this POI since late 2009.
But I had a different POI for about a year before that. There was plenty of things that made me interested in him as a POI, and made me think he could be Zodiac.
PROS:
*He looked very similar to the sketches, including an almost identical hairline to Zodiac: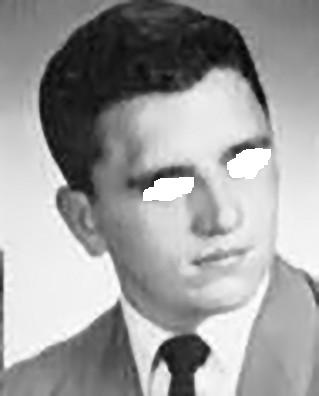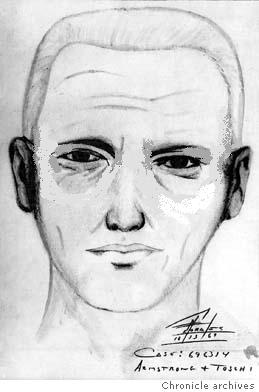 *He was a FAA certified Parachute rigger, pilot, and aircraft mechanic-all clues that I think could have tied him to the Berryessa wingwalker boots, and the fact that Hartnell said that Zodiac's mask appeared to have been made with a machine, sewing maybe. A skill that is required for a parachute rigger, is sewing machine operation.
*This guy used an address in the late 60's about an hour from Riverside (Bates case)
*middle name LEE ( friend of Darlene Ferrin?)
*This man was arrested in mid 1969 (non-violent crime) in southern CA. A few years later,
at almost the exact spot where he was arrested
, a woman named Ernestine Terello was murdered. She had pulled over for a "flat tire". She was abducted, and found a few miles away on a boy scout ranch, murdered. She had not been raped or robbed. Police theorized that a "good samaritan" had offered to help her, and then attacked her( like Kathleen Johns).
* most interesting of all, was that he had a sister in law named
PATRICIA HAUTZ
.
CONS:
* I didnt feel that his cursive writing looked much like the cursive writing on the Lass xmas card
* I have seen a few pics of him, none with glasses
I had thrown him on the back burner, mainly because of my new POI that I have been working on recently, but also because of the fact I could never put him in the Bay area....not until today!
Several months ago, I had requested his military records under the FOIA. I had all but forgotten about them until I checked my mail today, and thats when I had to dust him off as a POI.
In the military record below, you can clearly see that he was a marksman with a pistol, and was clearly in the bay area in the mid 1960's: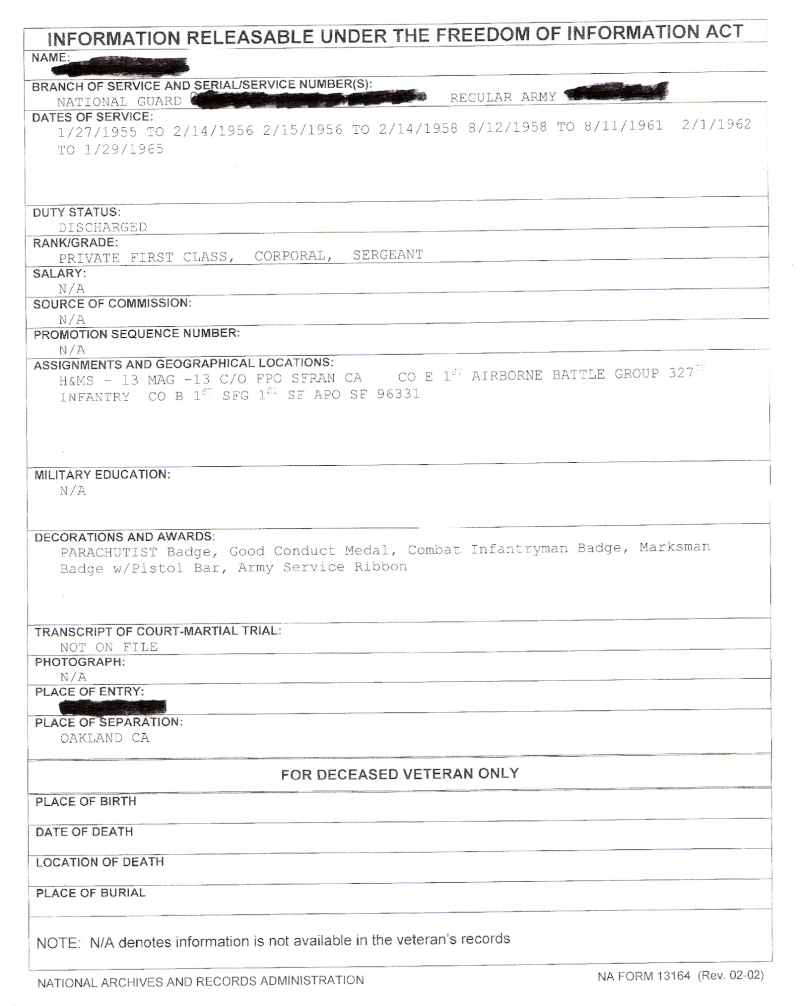 Having never been in the military, and not being that familiar with the terminology, I have some questions that I hope someone here with military experience, or knowledge, can answer for me.
1- In regard to the dates at the top for dates of service, I take it that the earliest dates of service are when he started, and the latest dates of service were when he stopped, is that correct?
2- In the "assignments & geographical locations" section, I clearly see SFRAN CA, SF APO SF, etc. What do the other numbers and abbreviations mean?
3- In the "Decorations & Awards" section, what does
MARKSMAN BADGE WITH PISTOL BAR
mean? That he was a marksman with a pistol?
4-In the "Transcript of court martial trial" section, it says
NOT ON FILE
. Does that mean that he had a court martial of some sort, since it doesnt say
N/A
, like in many other spots on the report?
5- In the "place of separation" section, where in Oakland would he have separated from the army? What/why would Oakland be named?
Any help with this military report would be greatly appreciated! Thanks
By the way, this man would have been 30 years old going on 31 at the time the Zodiac sketch was made.