Morf: you're ignoring so much of what I presented. You say, so what he was a member of an anti-establishment, right-wing group. But you're ignoring the significance of why THAT particular group would matter. The days that Z murdered and the places have to do with the revolutionary period. The cards and letters similarly have this theme (e.g., a Citizen - see details below). Then you have the by rope, by poison pen, by knife, by gun with the crosshair on the MM decal. Show me one other place where you have a crosshair symbol and a by rope, by gun, by knife together? Nowhere except Z.
CITIZEN CARD
The Citizen Card, May 8, 1974: A Clue to Z's "Minuteman identity":
Back: http://www.zodiackiller.com/CitizenCard1.html
Front: http://www.zodiackiller.com/CitizenCard2.html
Notice Zodiac chose a Samuel Adams stamp for the Citizen letter (the signature, "a citizen," also smacks of the Revolutionary period). The purpose of Paul Revere's famous "Midnight Ride" from Boston to Lexington was to warn John Hancock and Samuel Adams of the movements of the British Army, which was beginning a march from Boston to Lexington, ostensibly to arrest Hancock and Adams and seize the weapons stores in Concord. And, get this: Adams was born on the September 27, the same date as the murder at Lake Berryessa/Monticello. And Paul Revere died May 10, 1818. The Citizen Letter was sent on May 8, 1974.
THE DRAGON CARD:
A dragon is the symbol used by the KKK on their original flag. TH was a KKK member. The Green Dragon is the famous place where Paul Revere began his ride. Here's the symbol for the Green Tavern:
The card has BLAST in caps. TH owned TROJAN MINING AND BLASTING CO.
It was a
Jolly Roger Card
. TH was speaking at the
Jolly Roger Inn
when guns went off. This incident made the LA Times front pages.
THE EXORCIST LETTER: Z PLACED A CLOCK STAMP ON IT AND OUTLINED IT IN THE STRANGE FIGURE
TH was a regional coordinator for the Minutemen. Z placed a clock-stamp on the envelope of the Exorcist letter:
http://www.zodiackiller.com/ExorcistEnvelope.html
Sean at TV's site has convincingly shown that Z traced the clock for part of the strange symbol on the letter.
THE HALLOWEEN CARD:
There are many Halloween Card clues pointing to TH. Most important, it's a flasher, and no one had seen this prior to TH. Why would Z go to such lengths to put the image of a flasher on a card, write PEEK-A-BOO, if it wasn't a CLUE re his identity? The card says: YOU ACHE TO KNOW MY NAME, SO LET ME CLUE YOU IN...
Also on that card is the figure SLAVES PARADISE, which forms TH for Troy Houghton.
On that same card you have 13 Eyes. 13 BULLET HOLES, TH mentioned in the LOOK article. LOOK, EYES. 13 EYES. That's alot of clues and circumstantial evidence for one suspect. What other POI can you name where the CLUES on the HC line up. And remember: these clues that lined up were found by me AFTER I came up with TH as a suspect. In other words, I didn't figure out it was TH from the CLUES, I got him first and he fit the CLUES -- revealed what Z was trying to show us. My suspicion is that, when you get the right guy, the case will make sense; the clues will make sense. In other words, the right suspect should enlighten us about the case.
THE LITTLE LIST LETTER:
TH said in his last interview that he had a list of victims who would be killed when he went underground. He is mentioned in an article about having A LITTLE LIST.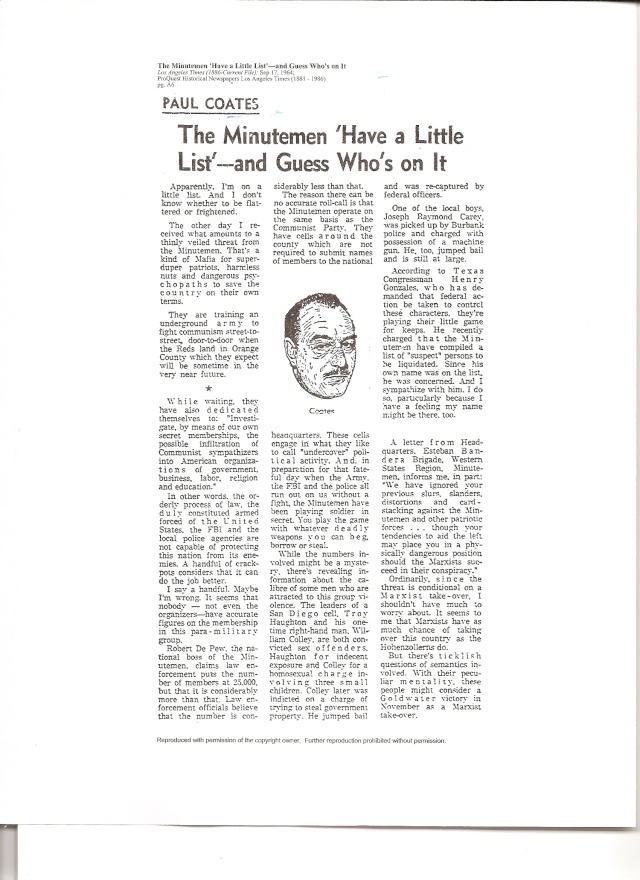 Okay, now what about everything else I've shown about TH's background? He was the guy in charge of explosives (and his lectures read just like Z's list of ingredients for the bomb). Then you have the MM codes, which was a core part of their operations. Then you have the Gilbert and Sullivan references. And, more important, the LITTLE LIST connection. Add to this,the shooting out the tires incident (who else has that?) that happened four years earlier to the day as LHR, the Deer Lodge Prison connection (extremely important) to the MM.
TROY HOUGHTON'S PERSONALITY AND BACKGROUND
Does this sound like something Z would do?
From LA Times, Oct. 5, 1965, "New Revere on Horseback" by Paul Coates:
"Haughton [at a Minutemen training session] described and demonstrated the use of metallic sodium, which explodes in water. He told of an instance where gasoline was poured into a left-winger's swimming pool and then metallic acid was added. This caused the water and gasoline to explode and burn.
It was announced that the Minutemen organization expects to send out plans for making a Sten gun at home. All necessary parts will be obtainable from any hardware store. Haughton explained that he had fired a gun made from these plans and found it to be very effective.
We were told that prankster type auto bombs, which produce smoke and whistling noises can be used to harass left-wingers. Harrassment can also be accomplished by phoning Communists at two and three in the morning.
Directions were given for the method of dynamiting a car in sabatoge activities. Haughton then suggested the use of a hyperdermic needle attached to an arrow. With the vial containing a particular type poison, the victim could be shot in the head. He said that a small injection in the scalp area could be overlooked by an autopsy surgeon."
HOW ABOUT THIS?
Here's an excerpt about him: "The California "Minutemen" was the brainchild of Troy Houghton of San Diego, CA. Houghton, while favoring the militant slant to anti-Communism, was bent to Halloween type pranks against the better known socialists and leftists of his area. One such rank was the mailing of a small tape recorder complete with a tape to a elected victim, usually some left wing character. Naturally, if you were to anonymously receive such an item you would be apt to play the tape. The voice on this tape said: "...this recorder contains ahigh explosive bomb set to go off in exactly ten seconds — nine — eight — seven — six — ...." One can only imagine the gymnastics performed by the mark in trying to dispose of the "bomb" before zero! Houghton's ability to escalate a touchy situation rather than defuse it, a fascination for machine guns and his apparent leaning toward other questionable areas would later become his undoing."From: http://www.scatteredremnant.org/MMCh4.pdf
TH was a miner who, for a brief time, worked with a geologist at UCLA. Z used the term "positively ventilate" about a bomb; seems like a miner's term.
TH's was a MM whose leader, DePugh, donned a Minute Mask at a press conference in Nov. 1961 while sitting next to him (Z wore a mask at Lake Berryessa, see attachment) Here's a newspaper article that mentions the Minute Mask (see end) discussed by Houghton and DePugh at the Minutemen conference at the Statler Hilton, LA on Nov. 10, 1961:
http://news.google.com/newspapers?id=HJ0yAAAAIBAJ&sjid=U-kFAAAAIBAJ&pg=633,3613729&dq=minutemen+conference+statler+hilton&hl=en
The MM placed decals on people's cars with crosshairs and writing about killing traitors by rope, by knife, by gun, by poison pen. They placed them on cars in the SF area in the summer of 1968; months before the LHR murder. Z wrote on Hartnell's door and drew a crosshair symbol. Same thing.
There are many, many other things I've found that are very compelling. This is just some of it. I don't think the crosshair is at all the best thing I've found. But that's my view.
As for the handwriting: I think the unique comparisons I've shown with the cursive is very compelling. Very few people make curly-cues and the other things I've shown. It doesn't move me one way or the other, but it isn't at all inconsistent, IMO. All I have is cursive, and that show us nothing, really.