While I'm confident that Troy Houghton was Z, there are some very intriguing aspects about Raithby Roosevelt Husted that make him a very interesting POI. This is a photo of Raithby Roosevelt Husted in 1960.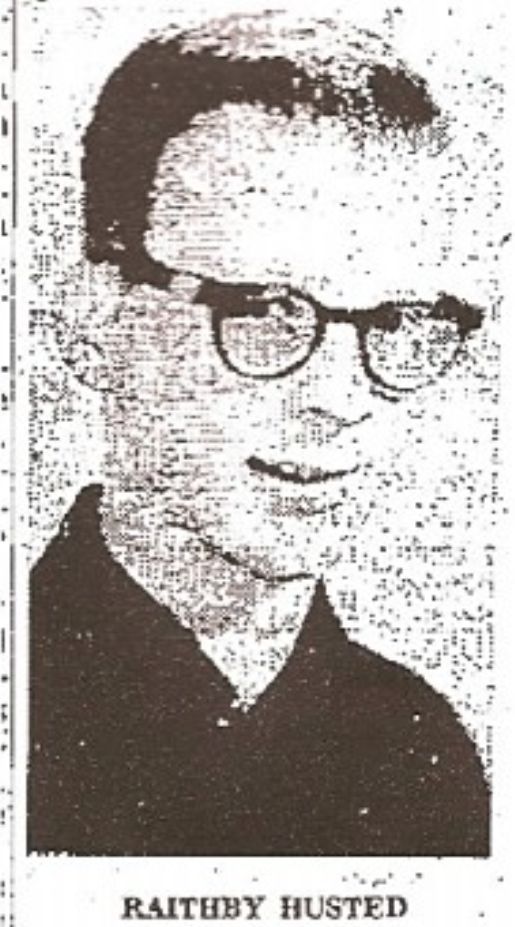 Husted-Z comparisons:
1) Husted attended Mountain View Academy from 1957-61:
http://www.classmates.com/directory/school/Mountain%20View%20Academy_2.jsp?org=11162
Mountain View Academy, Mountain view, CA
He then entered the Marines at Camp Pendleton, California (near Lancaster, Calif) where he met and became good friends with Walter Peyson, DePugh's subsequent right-hand man. "Wally would take Raithby to Dr. Swift's lectures in Lancaster." See Jones excerpt at the end of this post.
He was a piccolo and flute player with the Marine Corps Band, and he was a cook. The musical influence may (or may not) explain Z's interest in the Mikado and "Blue Meanies."
2) The initials on the RCC desktop poem are rh: raithby husted?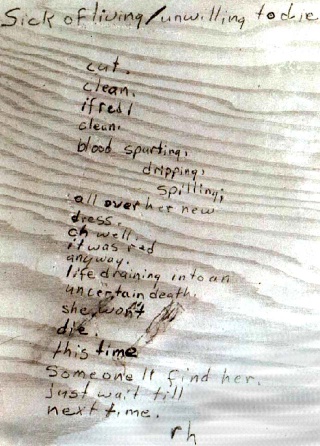 3) Raithby Husted lived in San Bruno, a city in San Mateo county, adjacent to SF International Airport.
http://news.google.com/newspapers?id=HgAdAAAAIBAJ&sjid=J5sEAAAAIBAJ&pg=4948,2403386&dq=raithby+husted&hl=en
4) Husted was a member of the Seventh-day Adventist Church. Cecelia Shepard was a member of the Seventh-day Adventist Church.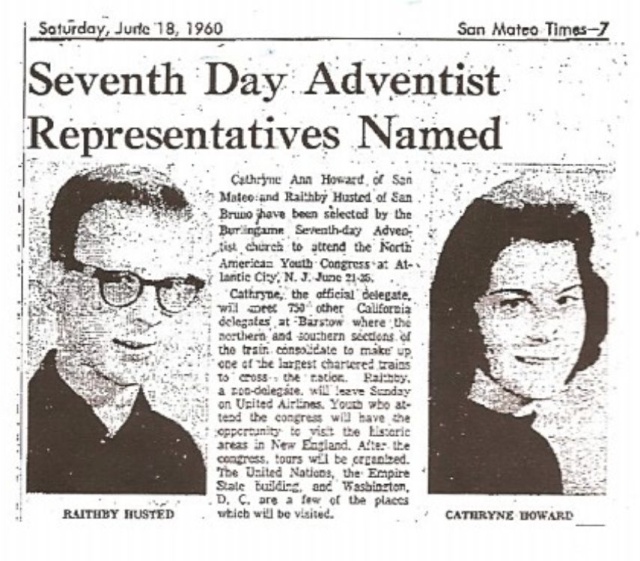 Curiously, someone emailed Tom Voigt the following: "...I have been told by my mother that one saturday she was at Loma Linda SDA Church and they found in the guest book that the Zodiac had signed it." Shepard was from Loma Linda. Here's the link to the email: http://www.zodiackiller.com/ZMail.html
5) Husted claimed that he was a distant cousin on his mother's side to Teddy and Franklin Delano Roosevelt. Z used only FDR stamps on his letters until the Melvin Belli letter, which was rushed because, IMO, it was a satirical response to the fake Z on the Dunbar Show that aired the day prior.
6) Raithby Husted is 13 characters; the My Name Is cipher is 13 characters
7) Husted claimed to be an assassin for the MM. He then betrayed them, testifying in court against DePugh, Peyson, and Houghton. But the story is very complex. Right before his testimony, Raithby Husted signed a statement for DePugh and his lawyers at the Moonlight Motel saying that he had been "brainwashed" by the FBI. His testimony, however, did not mention this. In
The Minutemen
, Harry Jones questions Ray about this:
It was several months later [late 1966] before Husted's strange behavior at the Moonlight Motel was explained, either to me or the Minutemen.
"Why did you do it?" I asked.
"I thought I could get back into the Minutemen," he replied. "Maybe not as far as I had been, but get back into it and still supply information, which I'm convinced I could have done, but our fine federal governemtn (and there was an unmistakeable note of resentment in his voice here) had other ideas."
So it seems obvious that Husted is truly repentant and desperately wants to make amends with the Minutemen organization for his damaging testimony. He also fears for his life [this is documented in the book as well]. Indeed, Houghton's conviction was eventually overturned in 1968, partly because of Husted's testimony. Here's what Jerry Brooks (a MM) said of Husted's testimony (quoted in Jones,
The Minutemen
, p. 353):
"When I saw Raithby Husted at the Federal building shortly after the grand jury testimony in the summer of 1966...he told me that he had been threatened and coerced into making a statement that was false, and that some federal agents had drugged him and he had been physically mistreated, including a beating, and made to sign a statement. I saw agents beating Raithby Husted in the Federal Building in Kansas City the day he returned from giving a sworn statement to Mr. DePugh and shortly before he was to testify before the grand jury...He said also that he was told to perjure himself and was told the precise testimony to give before the grand jury."
8. Husted got married on March 9, 1969 in Santa Cruz, CA at the age of 25:
California Marriage Index, 1960-1985
about Raithby R Husted
Name: Raithby R Husted
Age: 25
Est. Birth: abt 1944
Spouse Name: Marilyn J Downing
Spouse Age: 26
Date: 9 Mar 1969
Location: Santa Cruz
If RH was Z, this could explain the gap between LHR and BRS.
9) Husted seems to be related to Lt. James Husted, Vallejo PD. Interestingly, Lt. Husted was the one who championed Arthur Leigh Allen as a Z suspect. According to Det. John Lynch, who along with Husted were the Vallejo cops who first interviewed Allen, Husted like Allen best as a suspect; Lynch liked him least.
When I suggested the Raithby-Lt. Jim Husted connection, THE FOREIGNER did the following research (for free, thank you TH

)
Here is info concerning the Vallejo Lt. Jim Husted you referred to:
Now, there was a James Husted who divorced a woman in Solano County in 1974, remarried in Solano County in May 1976, divorced in Solano in 1982, remarried in Napa in 1984 (I cant be sure this is the Lt you are referring to but, IMO, the possibility is pretty high it is him:
California Marriage Index, 1960-1985
about James J Husted
Name: James J Husted
Age: 36
Est. Birth: abt 1940
Spouse Name: Joana M Feldman
Spouse Age: 35
Date: 8 May 1976
Location: Solano
James Husted has several connection to Oregon just like the Raithby R Husted family:
HUSTED, JAMES JOHN (Age 70)
Associated names:
HUSTED, JAMES A
Possible Employment / Business Associations:
AFFORDABLE GEMS AND JEWELRY
EAGLE POINT RANCH, INC
GALLERY4COLLECTORS
JJH AND ASSOCIATES
JJH AND ASSOCIATES
THE OREGON PROPERTY CONNECTION, INC
MEDFORD, OR
CENTRAL POINT, OR
TALENT, OR
NAPA, CA
BOWMAN, CA
ASHLAND, OR Possible Relatives:
HUSTED, MARILYN LJENSEN (Age 54)
HUSTED, MARILYN L
Here are two pages of background on Raithby Husted from Harry Jones, THE MINUTEMEN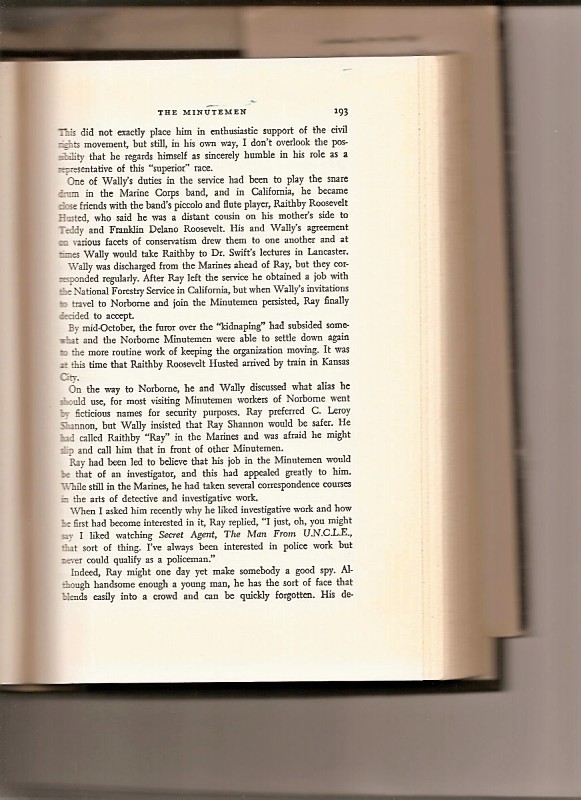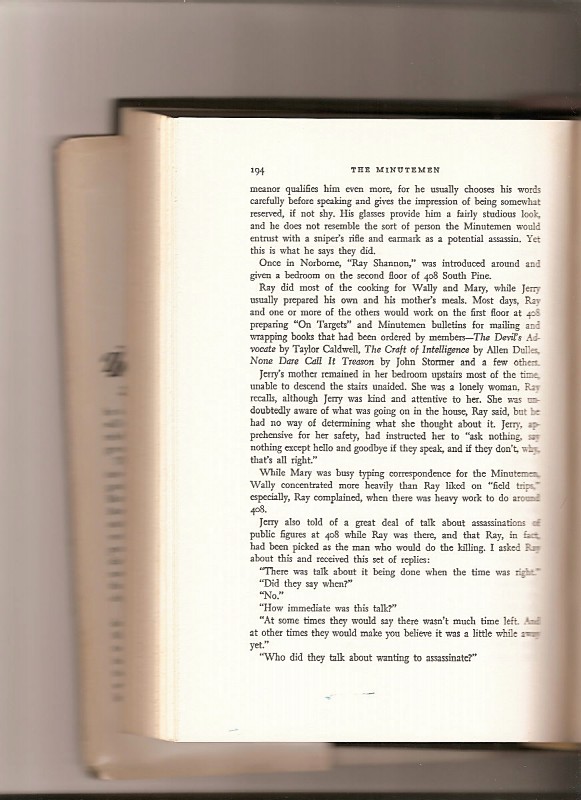 Interesting that he was reading the Devil's Advocate, whose theme is that the devil is turning humanity into "slaves."
Here's a discussion of this and the significance of the book to the Minutemen:
http://www.scatteredremnant.org/MMCh3.pdf