Got it, D, and thanks! It's been a late working day for me (midnight ET). I suspect that TH didn't have much of a relationship with Jesse (or even his father for that matter). Bettie said something about that to me. HH died in 1957, so TH probably lost contact with Jesse within the following decade. My best guess is that TH went underground in April 1967 (as he said he would, with a little list, btw), and never resurfaced again. He probably died from a bad heart (which was a chronic problem for him) in the mid to late 1970s.
I've had to put down this case for the past year or so; but I'm still as convinced as ever that TH was Z.
I think there are at least two Z murders in the 1960s, neither of which was even recognized as a murder, that have gone completely unnoticed. Z was so good at his craft that his murders went unrecognized as such.
Hear me out on these.
UNRECOGNIZED MURDER #1:
Z SPOKE OF Death "BY FIRE." What murder was he talking about?
SHORTLY AFTER TH FIGURATIVELY "FIRED" HIS LAWYER FOR "SELLING HIM DOWN THE RIVER" IN A GUN CASE, FOR WHICH TH SERVED JAIL TIME, HIS LAWYER MYSTERIOUSLY DIED IN A FIRE (ONLY WEEKS LATER)
[/size]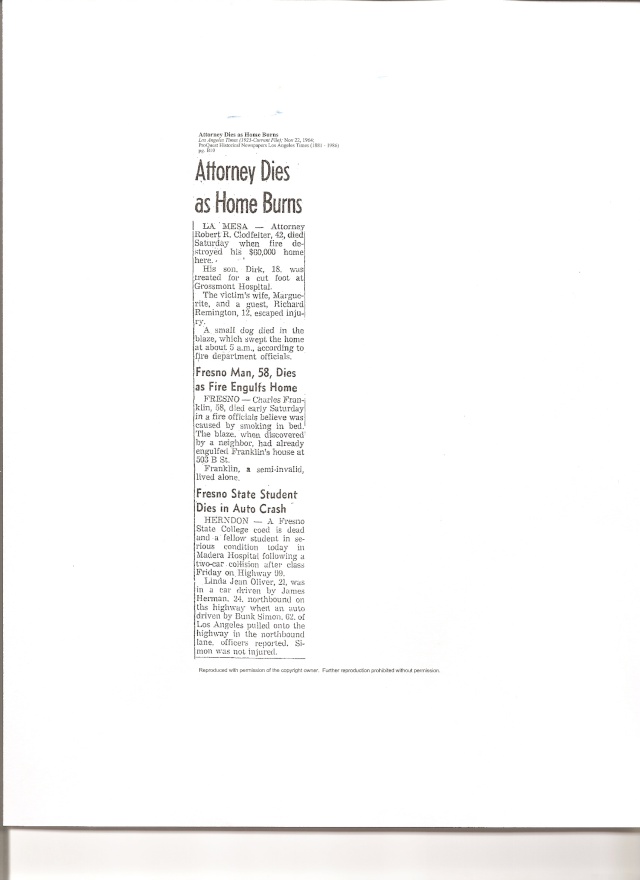 Here's what TH and DePugh said about this lawyer weeks before he died in the fire: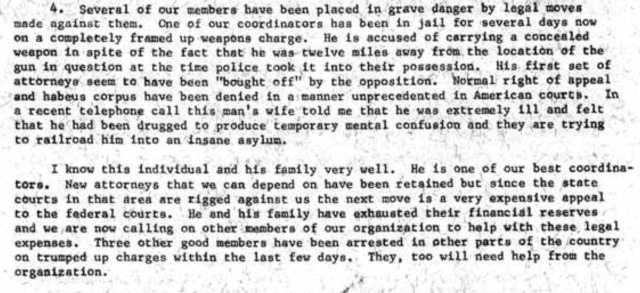 WHY WOULD I SUSPECT TH OF THIS FIRE, AND WHY SHOULD LE HAVE SUSPECTED HIM? WELL, CONSIDER THAT YOUNG 14-YEAR-OLD TROY WAS ARRESTED FOR ATTEMPTED ARSON: HE WAS GOING TO BURN A JEW IN HIS HOME. PRECISELY WHAT SEEMS TO HAVE HAPPENED TO HIS "FIRED" LAWYER.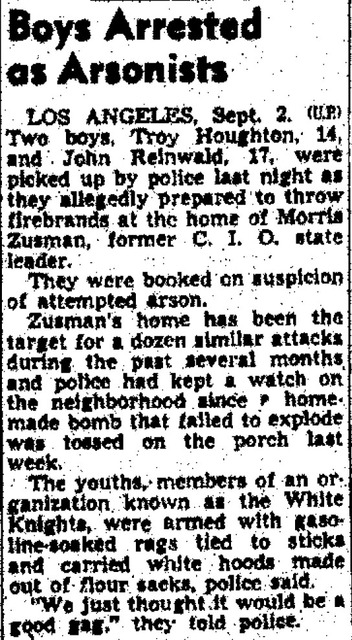 NOTE THAT YOUNG TROY WAS CARRYING A KKK HOOD
Parenthetically, and as I've noted elsewhere on this thread, all the elements of the LB attack indicate that it was a KKK ritual killing.

UNRECOGNIZED MURDER #2

A similar incident occurred regarding a well-known LA Times journalist, Paul Coates, who regularly wrote inflammatory columns about TH and the MM that were nationally syndicated (they appeared in newspapers all over the country. Coates mysteriously suffered a massive stroke in 1966, in his mid 40s, from which he later died two years later. Here's the link: http://en.wikipedia.org/wiki/Paul_Coates
In my view, Coates was poisoned -- something that TH had preached to his followers as the method to assassinate political enemies. Here is the article he wrote about the MM having a Little List: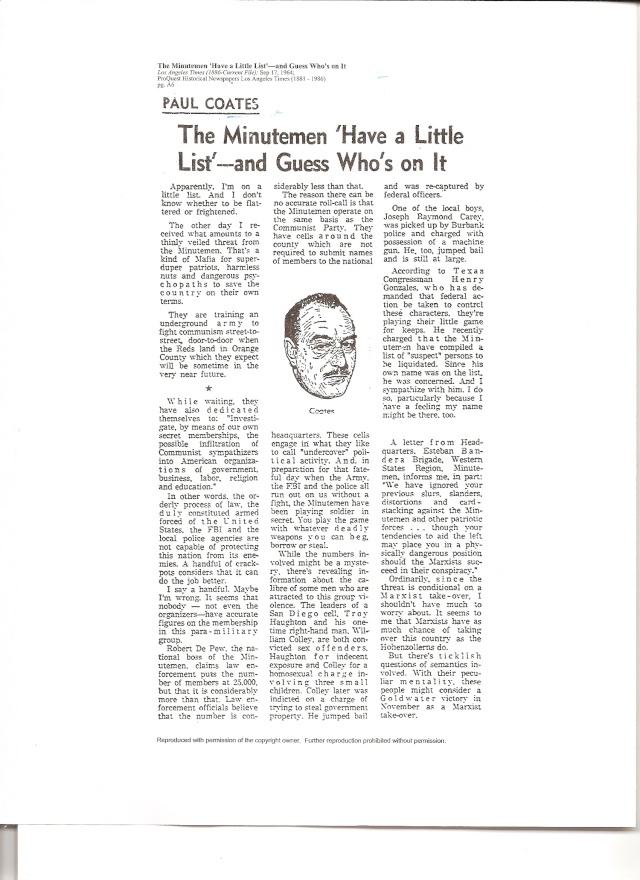 Here's an FBI doc re Houghton and poison gas; I have other specific
documents in which Houghton explain how to use poison darts
to assassinate enemies without being detected.
url=https://servimg.com/image_preview.php?i=816&u=15068084]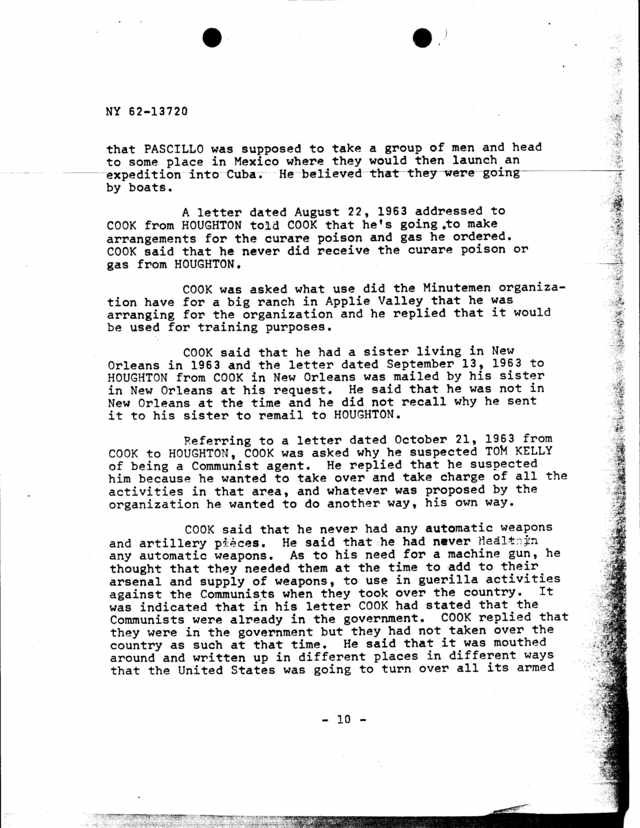 [/url]
Here's an excerpt from Harry Jones, Jr's THE MINUTEMEN about TH and death by poison: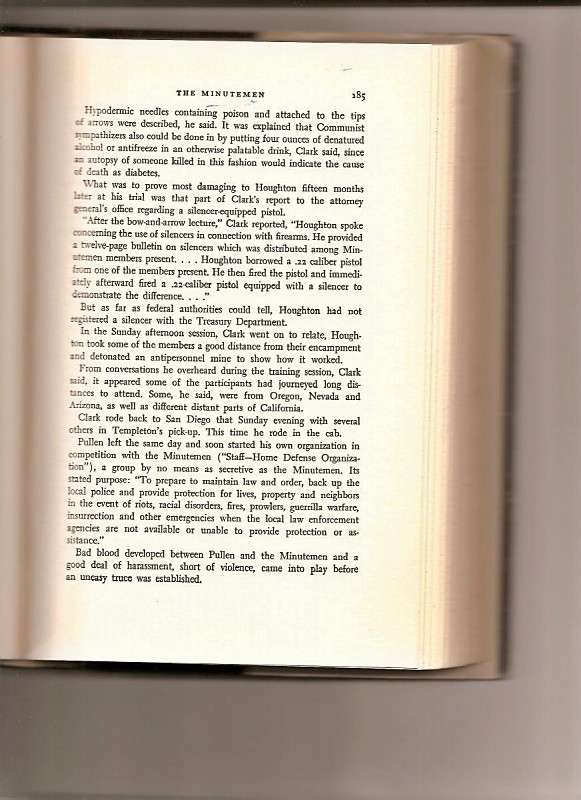 And of course:
Z WAS KNOWN TO TAMPER WITH VEHICLES (CJB and K JOHNS)
AND HANG OUT AT A LIBRARY (CJB):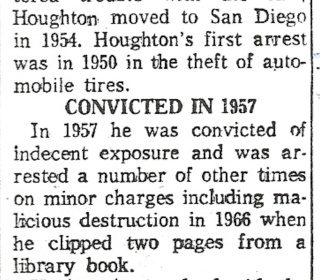 I think it is very important that TH tampered with vehicles.
And consider that, if TH was in the hills of Montana near Deer Lodge Prison, as I believe he was, prior to LHR, he would have been consuming these Minutemen survival tabs (invented by Robert DePugh):
This is so important! Because it explains why Z put a crosshair on the first letter, and then realized he'd given too much away. So he invented the Zodiac persona as a ruse to misdirect LE from the truth.