For the record, this is the list I compiled that I sent to a certain researcher. For the record, I never said that Z having a large face and TH having a large face was "rock solid evidence that TH was Z." Quite the opposite. I said it is a miniscule point; if someone takes issue with Z having a large face (though Mageau said he did in the police report and he's one of the few people that we know saw Z), it means nothing to me. I said it matters so little to my case, that I would happily agree to entirely dismiss Mageau's claim that "the only thing unusual about Z's face was that it was large." It is an incredibly minor part of the list. It just happens to be near the top because I start with physical characteristics. Yet, a certain researcher claimed that he didn't get any farther down the list because he was so certain that no one had ever claimed that Z had a large face, so I must be simply making things up in my zealousness to make a bogus case against TH. Absurd but entirely predictable. This researcher said the same thing with respect to my claim that BRS was a July 4th murder. For the record, I don't have a boss: I'm a full professor.
TROY HOUGHTON LINKS TO Z
Z WAS DESCRIBED AS HAVING A LARGE FACE:
Z WAS DESCRIBED AS WEARING HIS HAIR IN A POMPADOUR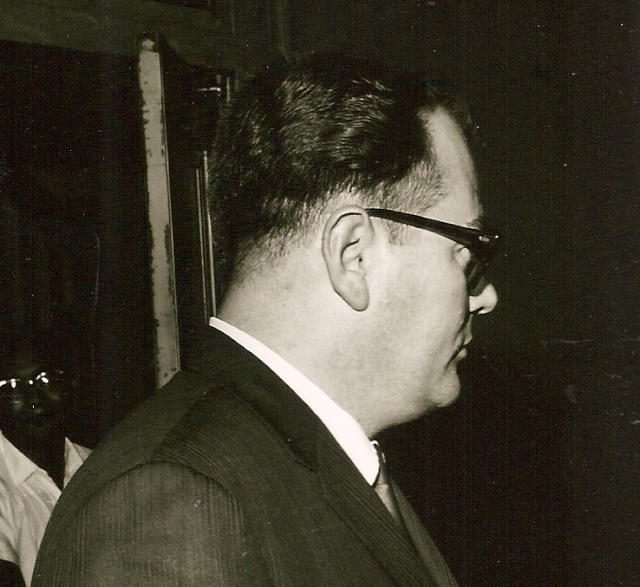 Z WAS DESCRIBED AS HAVING A LARGE CHIN, SMALL NOSE: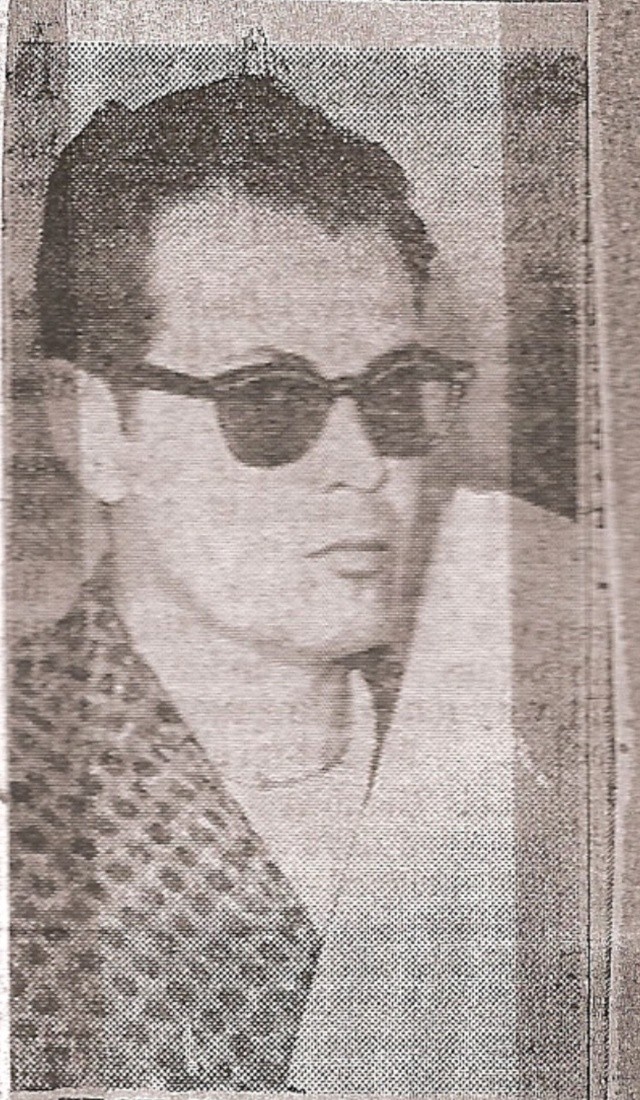 Z WAS DESCRIBED AS WEARING BLACK PLEATED PANTS: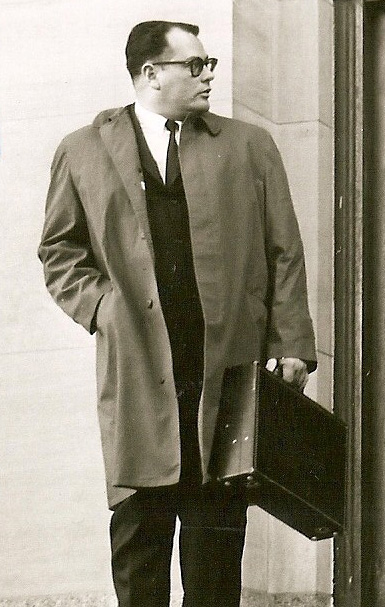 Z WAS DESCRIBED AS HAVING A POT-BELLY STOMACH:

Z WAS DESCRIBED AS HAVING ACNE ON HIS NECK AND CHIN:
Z WAS DESCRIBED AS HAVING A MONOTONE VOICE:

TH shot out the tires of a woman's car in 1964; Z talked about shooting out the tires of a school bus.
TH liked the Mikado (very good source for this)
TH targeted young girls to flash; Z talked about targeting "kiddies"
TH was written about in a nationally syndicated column with Little List in the title
The MM were compared to G&S in a series of articles on the MM in the Arizona Republic in 1968. DePugh thought this expose was important enough to respond to with a letter when he was a fugitive in NM.
TH was speaking at the Jolly Roger Inn, CA when guns were drawn and this incident appeared in the LA Times and other papers. Z sent a Jolly Roger greeting card.
TH's wife and father-in-law owned art supply companies; the MM did their own publishing
TH was convicted twice of flashing. The image on the HC is, IMO, of a flasher
The by gun, by knife, by rope, by fire image forms a tH. The MM decal has by knife, by rope, by fire and a crosshair symbol. By fire: Houghton committed arson at age 14. His lawyer died in a fire after failing to get him an
appeal -- a lawyer who TH claimed sold him up the river
TH had a class A license in explosives. He owned a company called Trojan Mining and Blasting Co.
A mysterious letter was sent after CJB murder from a
Patricia Hautz
...Troy HAUGHTON.
In The Minutemen, Harry wrote: "Houghton sported a button on his coat reading 'S.O.B.' -- for 'Sweep Out Brown.'"
So TH wore snarky buttons, while Z insisted people wear his button and spoke of silly buttons like Melvin Eats Bluber
TH was a member of the White Knights of the KKK. A Dragon is portrayed on the original KKK flag (Dragon card). The Good Citizen was a KKK publication. 5 of the 7 elements of the KKK are water, hood, robe, sword, cross (represented as a Celtic cross in a circle). All elements present at LB. The other two are god and country.
The MM decal talks about a poison pen. The dripping-pen card may be a poison pen letter.
Most of the murders were committed on days and/or in places that are symbolic of the Revolutionary period.
TH talked about 13 bullet holes in his car. The postcard has 13 holes punched in it.
The MM flag was a Betsy Ross flag with 13 stars. 13 eyes on the HC.
The FBI suspected the Minutemen were in the hills in Deer Lodge MT when the escaped Deer Lodge convicts were up there as well. Z claimed to be an escaped convict from Deer Lodge prison.
The MM were trained in codes, ciphers, mail deception, letters to the editor, making bombs, how to use a rifle, and other guerilla tactics. All of these are consistent with what we know about Z.
TH had a shortwave radio in his office that he relied upon for his safety. (THIS IS THE ZODIAC SPEAKING).
TH was a regional coordinator for the Minutemen. Z placed a clock-stamp on the envelope of the Exorcist letter:
http://www.zodiackiller.com/ExorcistEnvelope.html
TH's name can be found in the 408; and when we use the anonymously sent code key, the last 19 letters of the cipher (which includes the signature crosshair symbol) are an anagram for: ROBERT DEPEW: IT IS ME, TH.
The Minutemen(crosshair symbol) fits the My Name Is cipher in terms of letter and symbol distribution.
Z put 13 eyes on the inside of the HC. TH was featured in LOOK magazine.
TH says in the Look article in 1966 that he and the MM were apolitical -- beyond politics, which had let them down too many times to care about anymore.
TH was on the front page and pages of the LA Times dozens of times. Z said that he was writing to the LA Times because they don't bury him on the back pages like some of the others.
TH said right before he disappeared that he had a list of people who would be murdered.
TH was arrested on a concealed weapons charge and a Federal weapons charge for using a silencer.
TH was accused of harrassing Mosk, who in response to these and other MM activities introduced a bill to ban mail-order guns in CA. The bill was successful. Z talked about acquiring one of his guns prior to the mail-order ban.
The MM put decals of a crosshair on cars. Z put a crosshair and wrote on Hartnell's door.
TH drove a beatup white car. Z was said to be driving a light-colored or white car; there were four different tires on his car at LB.
The San Diego Honeymoon murders seem very similiar to Z's murders. TH lived in San Diego.
CJB's murder occurred on the very night when a large MM bust occurred in NY. A watch (Minute man) was found at the scene. The teletyped letter reads very much like the MM decal (Harry noticed this). TH was most probably in LA with DePugh that afternoon at a MM fundraiser. The CJB murder and the MM bust appeared together on the front pages of the Southern California newspapers.
TH was booked for malicious destruction of property for clipping out two pages from a library book in 1966.
CJB was murdered when she left the RCC library in 1966.
In July 1969, Belli represented a murderer (the trunk murderer) who had gone underground using a fake identity for over 35 years, and this appeared in all the California newspapers, esp. Bay Area ones.
https://redcdn.net/ihimizer/img96/6051/houghtonbellifugitive19.jpg
https://redcdn.net/ihimizer/img651/6051/houghtonbellifugitive19.jpg
Belli was also Jack Ruby's lawyer. The MM were implicated in the JFK assassination TH said he immediately went underground after the assassination. Oswald himself mentioned the MM several times in his writings.
Eleven days after the JFK assassination, a letter postmarked Lancaster CA was sent to Dallas that looks very much like a Z letter:
http://jfk.ci.dallas.tx.us/04/0403-002.gif
Houghton's right-hand man, Dennis Mower, lived in Lancaster, CA. JFK can be seen in the backwards letters in the Diablo code.
And while the TH handwriting is inconclusive because it's cursive and Z didn't write much in cursive, there are some very compelling, IMO, comparisons:
Haughton's TH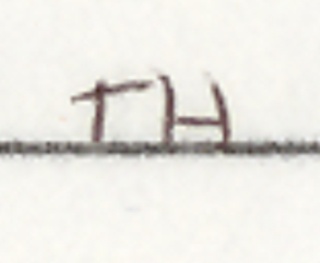 TH from Bates Letter:
Troy's T with distinctive curl at the end:
The R in Riverside on the Hautz envelope with distinctive curl at the end:

This is from this envelope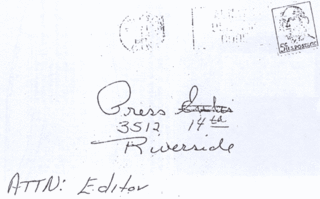 Another very odd and characteristic similarity is that Troy makes his t's without crossing them. He comes back at the end of the word and crosses it.

Notice that in the Hautz envelope, the writer started Enterprise but then crossed it out. The t was made just as Troy makes it: a loop but there is no cross, as if that would be made at the end of the word coming back.
THE POISON PEN
:
THE GUN, THE ROPE, THE KNIFE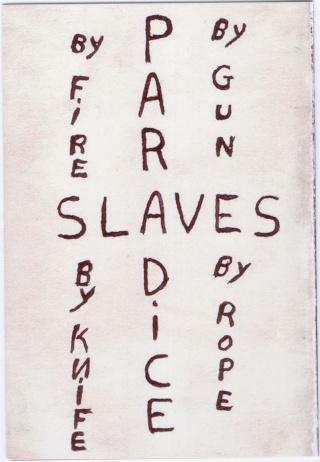 THE FIRE
LIBRARY CRIMES AND RH
:
Cheri Jo Bates was murdered on Oct. 30, 1966. The MM had a huge bust in NYC that afternoon and Troy and DePugh were in LA earlier in the day. Bates was murdered outside Riverside Community College Library, where she had been before meeting her killer. Houghton was arrested in 1966 for tearing out pages of a library book.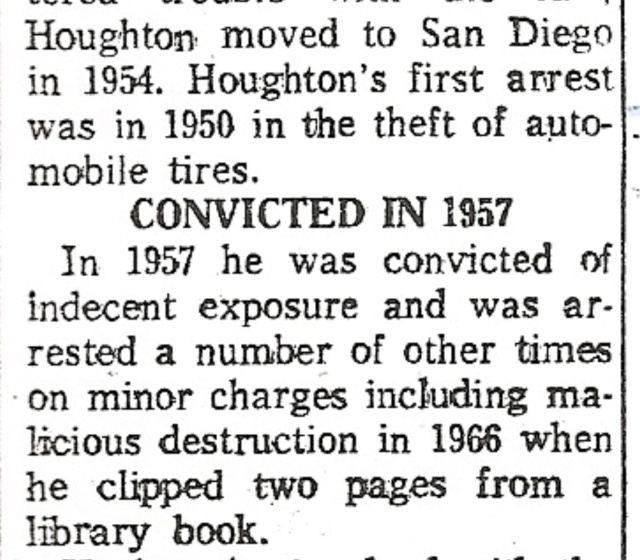 The Riverside Desktop Poem, found by a janitor months afterwards, is signed rh. Obviously, h could be for Houghton. What's the r? Z signed a letter in 1971, the Red Phantom (red with rage). Could the r be red with rage? Could it mean red with rage Houghton? I assume that writing on the underside of a library desktop would also qualify as malicious destruction of property.

GREETING CARDS:
Here is a letter written to Troy Houghton in 1965. Notice Cook, the sender, says: "your 'greeting card' has stimulated my curiousity"
Like Z, Troy used Greeting Cards in his mailings. This is very odd, though I know you don't agree. I did a search of 10s of thousands of FBI documents, and the only greeting card was sent by Troy Houghton. Greeting cards are sent all the time. But both Zodiac and Houghton sent greeting cards for reasons that had nothing to do with holidays, illness, sympathy, birthdays, etc. That is odd. Here is Troy's greeting card: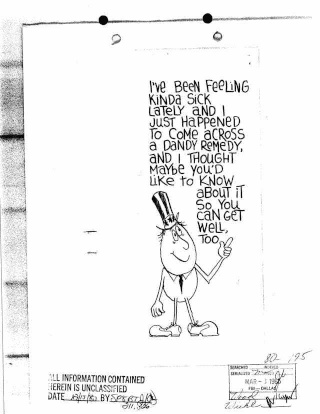 The significance of Z's claim that the LA Times "don't bury me on the back pages like some of the others"
In the March 13, 1971 letter to the LA Times (click here:
http://www.zodiackiller.com/LATimesLetter.html
), Z said that he was writing to the LA Times because "they don't bury me on the back pages like some of the others." During my research of the Minutemen in the newspaper archives, I've noticed that The LA Times featured many stories -- far and away the most stories of any newspaper -- about Houghton (virtually anything he did that was mildly newsworthy) and the Minutemen. The Bay Area papers ignored both Houghton and the Minutemen; and when they did run stories about them, they were buried on the back pages. Everyone thinks that Z's comment about burying him in the back pages was a complaint about not getting coverage for his activities. But this makes no sense: the Bay Area papers gave the Zodiac far more coverage than any other newspapers in the country (for good reason). So there's been lots of discussion about what Z could have meant by this strange statement that the LA Times "don't bury him on the back pages." The confusion arises from the assumption that Z was a nobody in his everyday life. Once that preconception is jettisoned, the seemingly odd statement seems to be a clue that Z was known not just for being Zodiac but for his everyday identity. I think it's Houghton pointing out that the LA Times covers his exploits more than any other paper.
The Necessary "Montana Connection":
From the LA Times, Paul Coates, "New Revere On Horseback," Oct. 5, 1965: "Haughton suggest that members could obtain 'survival' books from a firm called Pilgrims Torch in Colorado. He said that Poor Richard's Book Shop in Hollywood had moved to Montana during the recent Watts riot and had taken all their material with them." Montana is important because, when Z killed Shepard and stabbed Hartnell at Lake Berryessa, he claimed to be an escaped prisoner from Deer Lodge Prison in Montana (here's Hartnell's interview soon after the attack where he mentions this:
http://www.zodiackiller.com/HartnellInterview2.html
). So Z would have had to be somewhat familiar with Montana. The move of Poor Richard's Book Shop and Houghton's mention of this in 1965, provide a significant connection between Houghton and Montana.
More important: Z mentioned that he was an escaped convict from Deer Lodge prison in July 1969. So I research it, and voila: there were 12 escaped convicts from Deer Lodge in July 1968. They were all returned, but there was still an armed mystery man in the mountains. The FBI suspects that the mystery man or men in the mountains -- who clubbed a woman on the head, stole her car, ammo, and three high-powered rifles -- was a Minuteman or Minutemen. Why would Z say he was an escaped convict from, of all places, Deer Lodge prison? It makes little sense, unless he was in the mountains when they escaped. Z's own words got me researching Deer Lodge escapees. And then the research leads directly to (of all the groups and people in the world) the Minutemen. Just another coincidence, I suppose.
The Citizen Card, May 8, 1974: A Clue to Z's "Minuteman identity":
Back:
http://www.zodiackiller.com/CitizenCard1.html
Front:
http://www.zodiackiller.com/CitizenCard2.html
Notice Zodiac chose a Samuel Adams stamp for the Citizen letter (the signature, "a citizen," also smacks of the Revolutionary period). The purpose of Paul Revere's famous "Midnight Ride" from Boston to Lexington was to warn John Hancock and Samuel Adams of the movements of the British Army, which was beginning a march from Boston to Lexington, ostensibly to arrest Hancock and Adams and seize the weapons stores in Concord. And, get this: Adams was born on the September 27, the same date as the murder at Lake Berryessa/Monticello. And Paul Revere died May 10, 1818. The Citizen Letter was sent on May 8, 1974.
TROY HOUGHTON WAS, IMO, A FUGITIVE WHO WENT UNDERGROUND. WAS Z UNDERGROUND?
Little List letter: Z made this line up. Why?
As someday it may happen that a victom must be found. I've got a little list. I've got a little list, of society
offenders who might well be underground
who would never be missed who would never be missed.
Examiner letter:
BusBomb Letter, p. 3:
+ I said yes there was this man who was runnig by waveing a gun & the cops peeled rubber + went around the corner as I directed them + I disappeared into the park a block + a half away
never to be seen again
.
FROM ONE ARTICLE IN LOOK MAGAZINE IN JULY 1967
1. TALKS IN A TONELESS VOICE. IS ECCENTRIC AND PARANOID TO THE POINT OF TAPE RECORDING THE INTERVIEWER.
2. HAS A SHORTWAVE RADIO CONSTANTLY BUZZING IN THE BACKGROUND. IT'S HIS LIFELINE. THIS IS TROY HOUGHTON SPEAKING. THIS IS THE ZODIAC SPEAKING. ALSO, TELETYPE MACHINE RE ENTERPRISE LETTER COULD HAVE BEEN CONNECTED TO HIS SHORTWAVE RADIO (COMMON TO DO THIS).

3. TALKS ABOUT CARRYING RIFLES AND GUNS WITH SILENCERS IN HIS BRIEFCASE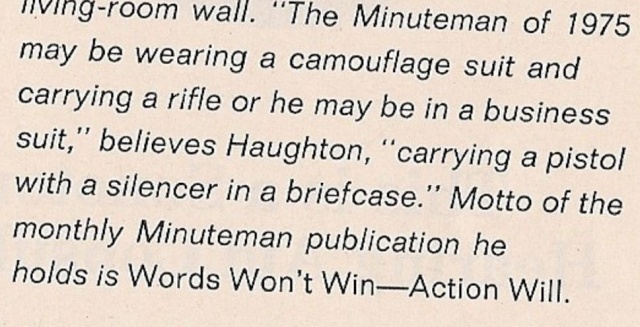 4. HOUGHTON AND JFK CONNECTION. THE ARTICLE, WHICH APPEARED IN 1967, SHOWS HOUGHTON STILL OBSESSED WITH PARANOIA ABOUT JFK ASSASSINATION.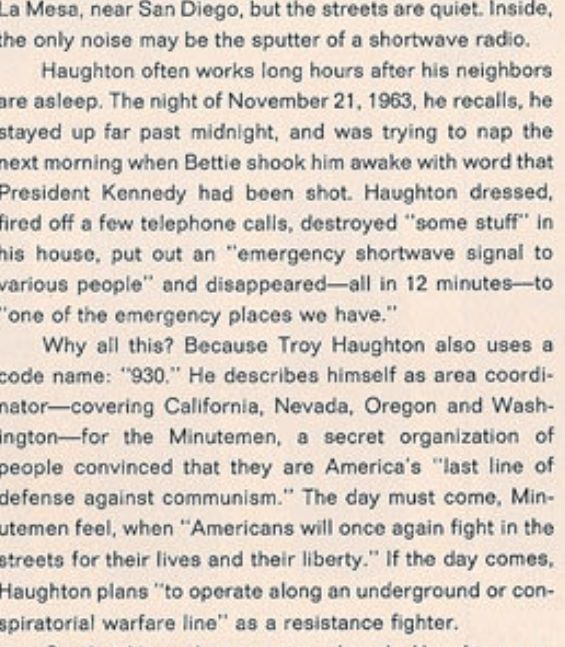 THE DIABLO CODE HAS LETTERS JFK BACKWARDS

5. 13 BULLET HOLES
13 EYES. EYES=LOOK (MAGAZINE)
ALL IN JUST ONE LOOK MAGAZINE ARTICLE ON TROY HOUGHTON

In his November 11, 1966 testimony, Troy Houghton said he had automatic weapons but did not keep them in the house. He kept them in the
High Sierras
, so if his house was searched they wouldn't be found.[/size]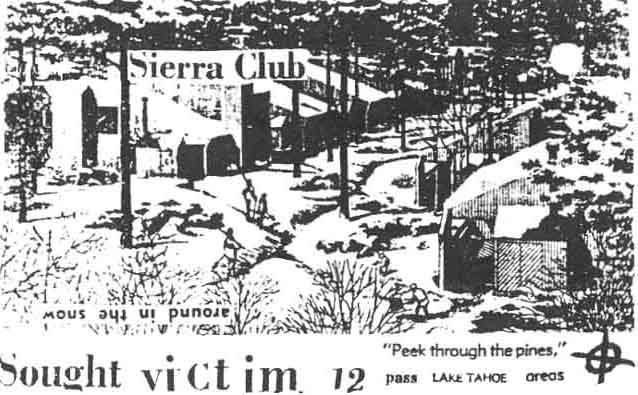 Here is the label from Minutemen Survival Tabs (DePugh, the leader invented them in 1964 and the label remains the same as it was in the 1960s).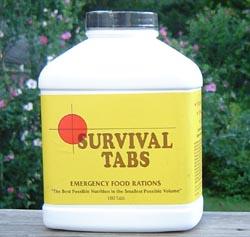 Here's the photo of the Minutemen terror sign from 1968 in Arizona: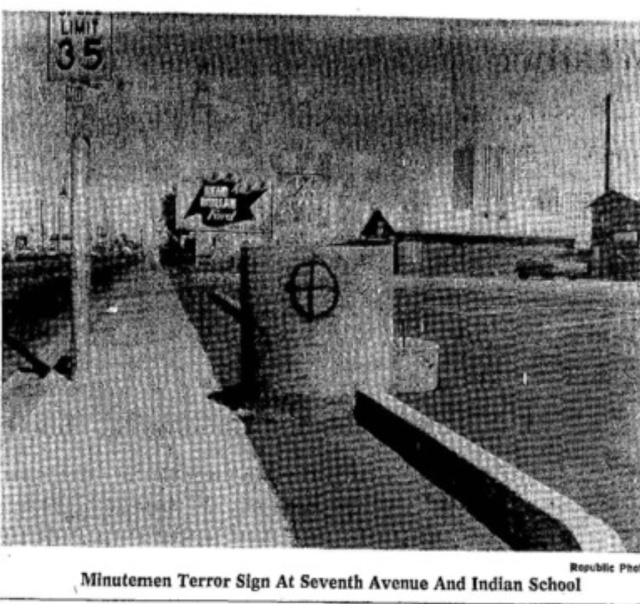 Here is an interesting 1965 MinutemanBulletin. Does it appear that there is a flashlight above the rifle on page 2?
HERE IS AN UNCONFIRMED Z LETTER FROM 1971: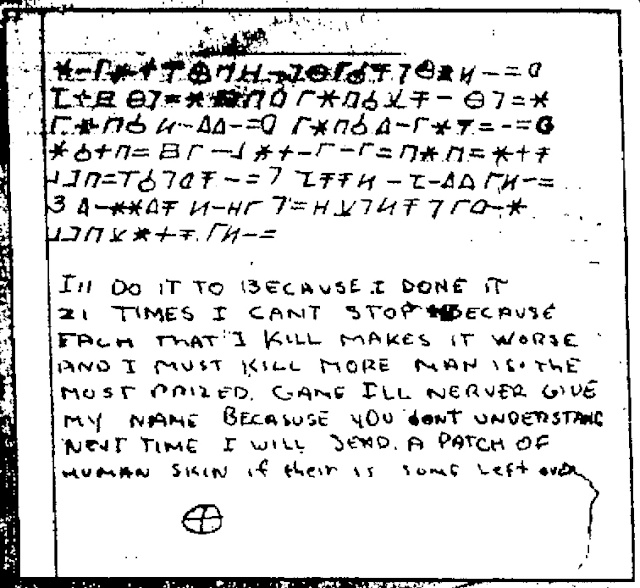 COMPARE THE CODE WITH MINUTEMEN CODE FROM FBI DOCUMENT:
troy H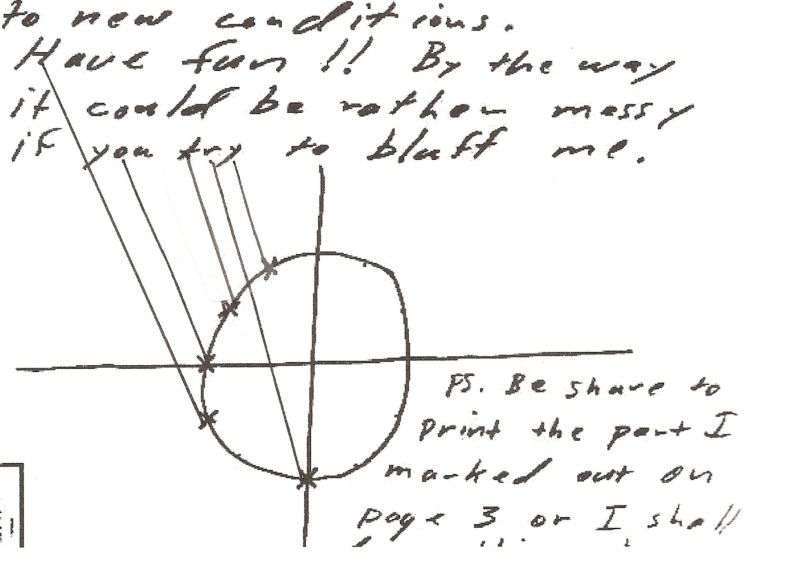 DAYS OF THE MURDERS: SIGNIFICANCE TO MM AND TH
The MM were very into dates. They always planned events on Patriotic days.
1) DEC 20: 4 years to the day that TH shot out tires of woman's car. The day before Troy Jr.'s 13th birthday.
2) JULY 4: obvious Patriotic Day.
3) SEPT 27: 3 days prior to TH's birthday, which fell on a Tuesday in 1969
4) OCT 11. - Bettie Houghton's birthday (his wife)
Zodiac wrote letters to the editor, but didn't give his actual identity (obviously).
Minutemen were instructed to do likewise: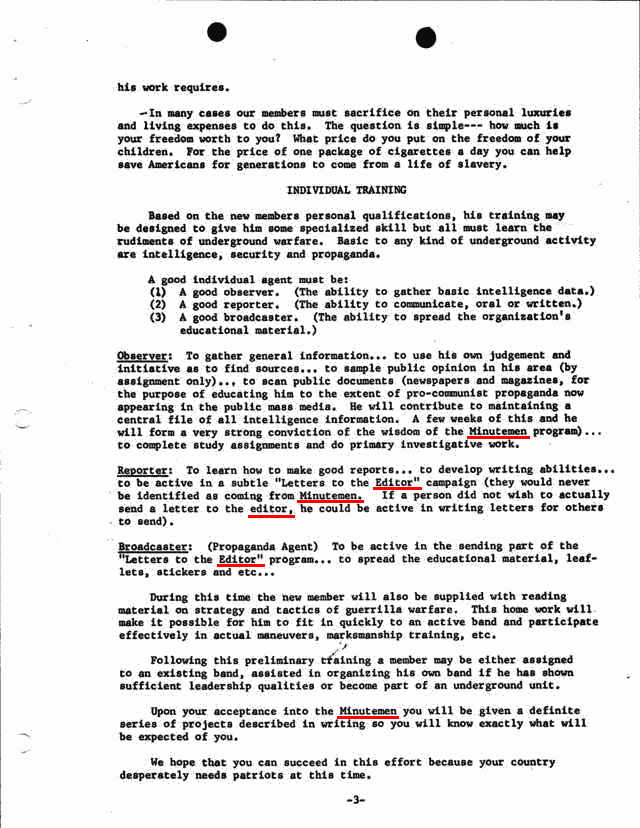 CLUES TO TROY HOUGHTON'S IDENTITY ON HALLOWEEN CARD:
1. Right index finger points to TH; left hand points down to ME
2. FLASHER IMAGE/PEEK-A-BOO
3. HC SYMBOL = composed of FL (flasher); 4 dots for FOUR TEENs he flashed
3. 13 EYES = LOOK MAGAZINE: 13 BULLET HOLES IN HIS CAR.
4. 4-TEEN = 4 TEENAGE GIRLS FLASHED
5. PARADISE SLAVES FIGURE - COMPOSED OF a small t, and large H for TROY HOUGHTON; AND
6. CONTAINS BY GUN, BY KNIFE, BY ROPE, SAME AS MM DECAL WITH CROSSHAIR SYMBOL; TH CONVICTED OF ARSON AT AGE 14 (BY FIRE).
7. ZODIAC DREW A Z AND A CROSSHAIR SYMBOL ON THE CARD, FIRST TIME HE DID THAT. WHY? BECAUSE HE WAS TELLING EVERYONE THAT THE CROSSHAIR SYMBOL HAD ANOTHER MEANING FOR HIM; ONE OTHER THAN THE ZODIAC. AND WHAT WAS THAT OTHER MEANING? THE MINUTEMEN, WHICH IT WAS ORIGINALLY INTENDED TO SIGNIFY. HE GOT COLD FEET, HOWEVER, AND QUICKLY CAME UP WITH THE ZODIAC AS AN IDENTITY TO MISDIRECT AWAY FROM THE MINUTEMEN.

[/quote]